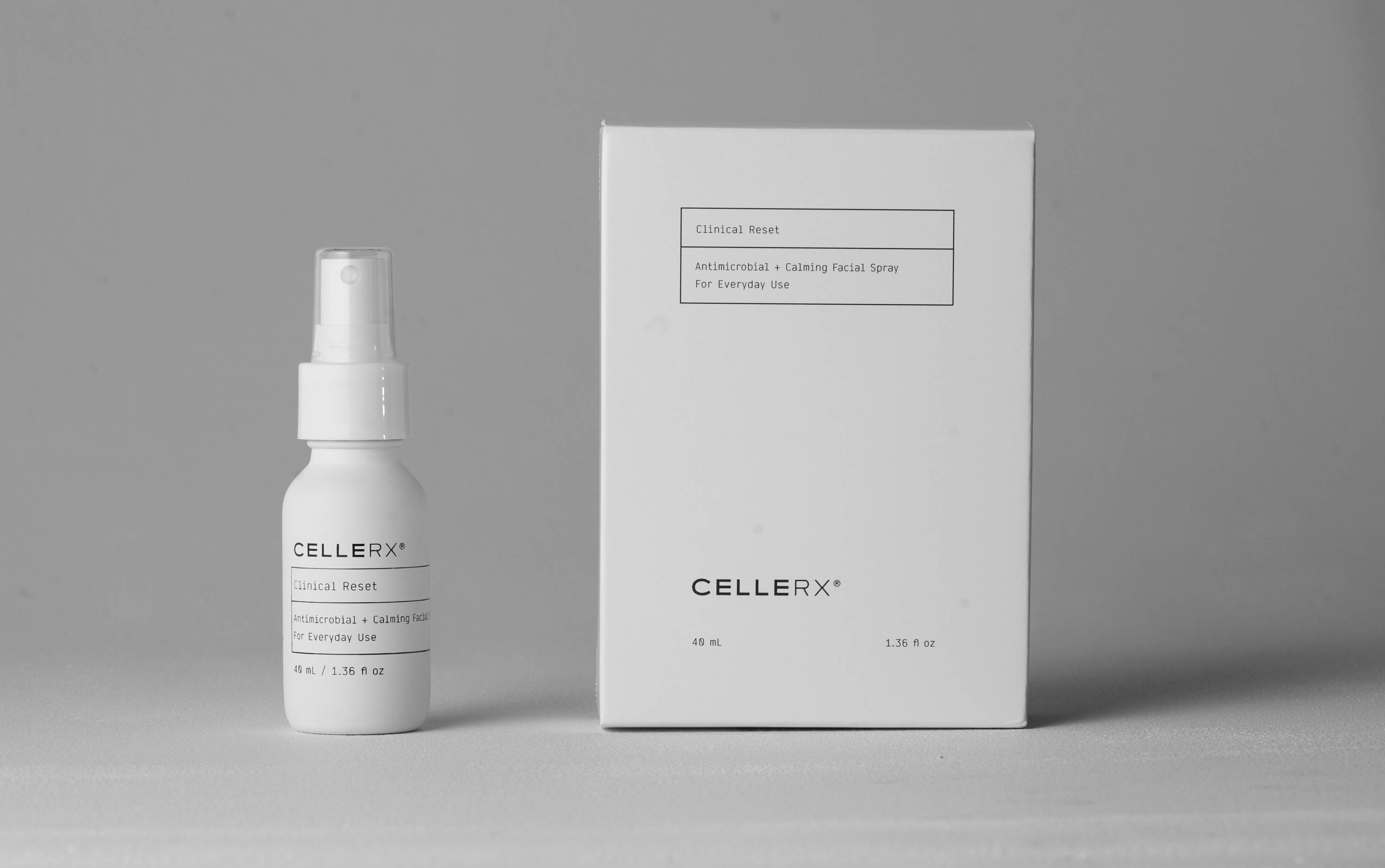 Due to Covid-19 and holiday shipping delays,
we cannot guarantee product arrival date.
Fight irritated, inflamed and compromised skin with CelleRx Clinical Reset.
A powerful daily mist, Clinical Reset's hero ingredient; hypochlorous acid (HOCl), removes the leading causes of redness, irritation and skin damage without stripping the skin. Part of your immune system's natural response, HOCl is a naturally occurring compound produced by your white blood cells to fight trauma and infection.
Bringing your body's natural defenses to your skin with pure HOCl, Clinical Reset does not use harsh solvents or alcohols leaving skin clean, calmed and soothed.
"CelleRx® Clinical Reset is now a permanent product in my skincare routine. I can't say enough good things about this product: it stops breakouts + mask acne, reduces redness and cleared up a part of my face that has been bumpy my whole life (I didn't even know it could be clear?!). It is just amazing. Not sponsored, just amazing! "
Nikki S.
"I've Been using CelleRx® Clinical Reset for only 2 weeks. I absolutely love it! My redness is gone. Usually in the winter my skin is super dry but it now feels hydrated and fresh. I also typically get hormonal acne flare ups and Clinical Reset helps them clear up and subside so quickly. Thank you! "
Zara H.
"OMG! This worked in 3 days. The acne on my chin from wearing a mask cleared up and I don't have any new breakouts. My skin is healing so well. CelleRx® Clinical Reset is worth every penny!"
Bridget D.
"My skin is so sensitive to poor air quality which always results in small red bumps on my face. I like using CelleRx® Clinical Reset as a topical solution to soothe and heal my skin irritation, instead of having to take something much more invasive."
Sarah S.
"I love CelleRx® Clinical Reset. I've suffered a lifetime of eczema flare ups all over my face and tried everything from elimination diets to prescription creams to ointments. This is the only product that has helped and I want everyone dealing with this to know there is hope! "
Elizabeth M.
"I love this! I bought this for myself and gave it to my acne-prone son, 18. Within 3 days his face looked much less inflamed, within a week it had cleared up. His skin hasn't been this clear since 6th grade. He'll be taking a stash back to college with him."
Suzanne W.
"Two weeks into using CelleRx and the redness I've had since last March is clearing up. I love how clean and therapeutic it smells and I notice it making a difference with my skincare routine."
Jodi S.
"I'm obsessed with CelleRx® Clinical Reset! My acne is gone
and I can't live without it. That's the truth!"
Maria B.
"CelleRx® Clinical Reset really works. Less breakouts and my skin feels better."
Carmen B.
"Hi! I've been using CelleRx® Clinical Reset and I love, love, love it. My daughter and I both use it and both noticed a difference. It's just so easy! Spray, let it dry and then do rest of your skin care routine."
Ayana M.
What is it?
CelleRx harnesses your most powerful protector; yourself. When bad bacteria and fungi get past your skin, white blood cells jump into action producing hypochlorous acid (HOCl) to help eliminate harmful microorganisms. Using the same molecule your body naturally produces, this patented solution reduces debris, harmful microorganisms and bad bacteria that contribute to compromised skin.
How does it work?
Our patented spray, CelleRx Clinical Reset, reduces irritation, redness, infection by fighting epidermal aggressors to give you happier and healthier skin with the only FDA-cleared HOCl facial spray.
How do I use it?
Spray in the morning replacing your morning cleanse or after a gentle cleanse. As your skin needs a refresh, mist over makeup, after working out or throughout the day. At night, post cleansing, spray on skin before serums and creams.
Ingredients:
Pure hypochlorous acid, .01% as a preservative in saline.